Adamel's Xpilot Homepage
---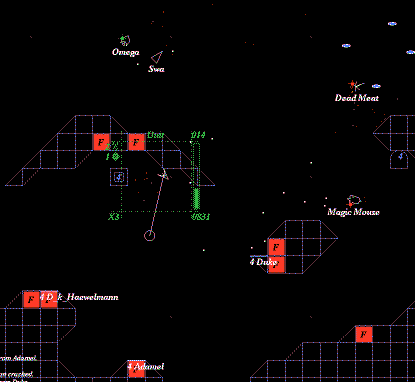 Here you can see the mighty AdaCraft(tm),
bravely defending the target and treasure against the evil team 2...
---
Old links
From around 1999-2003 there was a Bloods Music server with the below ranking patches running at *.e.kth.se.
You can view the old rankings here.
Team cups
---
Old code
I've ported up the Svan ranking system to XPilot 4.5.4.

Get a diff against 4.5.4 here: rank1-4.5.4.diff (59k)
Changes since last version:
Exit-with-a-crash bug when all players have left fixed.
Safer handling of the score file.
Older ranking patch against 4.5.3: svan4.5.3.diff (62k)
There is also an ancient diff against 4.U.3: svan4.U.3.diff (35k)
---
Marcus Sundberg,

mackan@stacken.kth.se